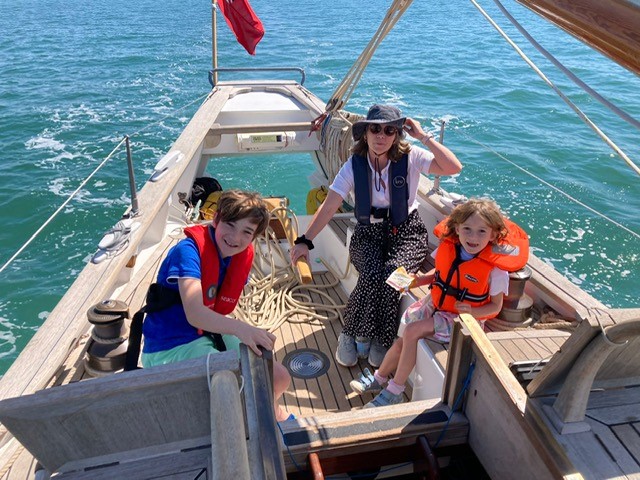 We're proud to report that Boleh had a prominent place in the Platinum Jubilee Celebrations organised by the Royal Yacht Squadron off
 Cowes last Saturday.  Heralded by a Spitfire display and led by the charity Wetwheels with Boleh not far behind, over 300 vessels from Solent based Clubs and Classes left Osborne Bay to parade past HMS Severn.  There, in perfect weather and with bunting and flags flying, HRH The Princess Royal took the Salute.
Lead Volunteer Skipper, Richard, Ops Director, Craig, and prospective Boleh volunteers Gary and Vass ensured Boleh was at her best and formally dressed for the occasion.  But the stars of Boleh's day on parade were Craig's young family Daisy and Charlie, seen at home in the cockpit with their mother Liane.  The Boleh Trust is very grateful to the families whose support helps to make Boleh a success and also to our many donors, most recently Trinity House, who literally keep us afloat.  We also acknowledge the amazing work of Wetwheels and are proud to have made a donation.
Please head over to the Royal Squadron to hear more about the event at https://www.rys.org.uk/
You can also head over to Wetwheels to hear and see more from them and the event at https://wetwheelsfoundation.org/