Restoration Open Days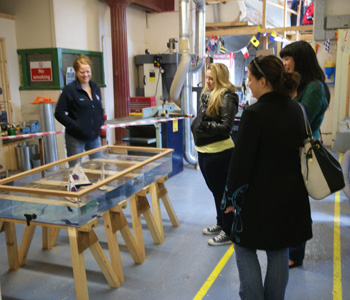 "Awesome project and providing lots of interest and new skills for a lot of young people. Important Historic interest and maintenance of skilled talents in this country. Well done to all involved."
"I have been following the build of the Boleh and I am very impressed by what all the apprentices have achieved. Well done to all of you."
"Didn't know the first thing about Boleh, but what a story. Thank you Reuben, Henry, and Will for enlightening me – hope all goes well for the future."
"Wonderful work bringing the past into the future and developing ancient shipwright skills."
Apprentices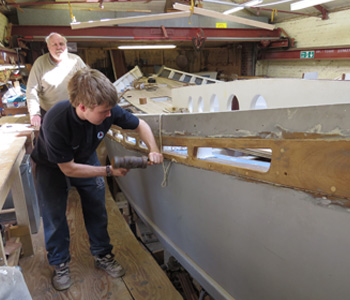 "I started at the Boleh Project back in November 2012, I came to Boleh with very little woodwork skills and I thought I might have been over my head to start with, and although I am now sadly leaving the project, I do have a great set of skills to take with me. Not just practical skills, but soft skills as well, and that is all down to the brilliantly friendly team here about Boleh and I thank them all . . . . . . Thank you Boleh for the brilliant opportunity, it truly has benefited me now and later on in life."

Henry Durman

Apprentice- July 2014

"I started here as an apprentice in November 2012 with minimal hand skills, now almost 2 years down the line I feel a much stronger version of myself with even greater confidence to where I am going to progress my life after leaving. My next current step is to complete the RYA Yachtmaster course and purchase my own vessel. Boleh on the whole has set me onto the right path in life through superb mentoring to myself as an individual. I have been given tremendous opportunities and learning experiences of various tasks and experience days, such as sailing, a visit to Blacksmiths, other boat yards, sail makers, and many more. Boleh has given me the first steps to starting my career."

Reuben Wincott

Apprentice. July 2014
Local Schools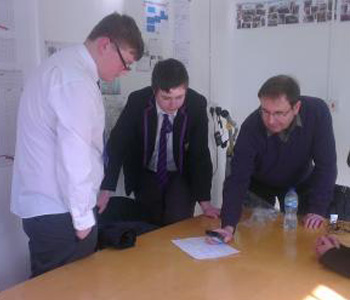 "For me and I wasn't sure at first, but after a couple of sessions I began to learn about how Boleh came to be and how other teenagers had been picked to be apprentices to work on the boat. This inspired me and gave me motivation to get more involved, I even recorded a song for our Boleh video."

Charter Academy Portsmouth

Student, Year 10. 2013
"The whole experience was good, I never realised how much work was involved in restoring an old boat. I enjoyed making the film and I learnt how to make short films and give direction."

Charter Academy Portsmouth

Student, Year 10. 2013
Awards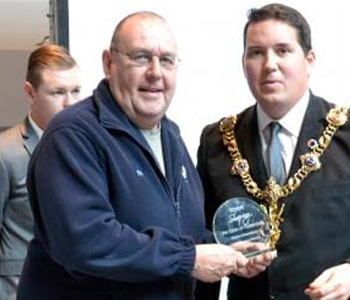 The Boleh Project was presented with the Future Generations Award in the Small Business category by the Rt Hon Matthew Hancock MP at the 4th 'Shaping the future of Portsmouth Conference' in November 2014. The award recognised our "contribution to developing the skills of young people in Portsmouth".
Inspirational Sailing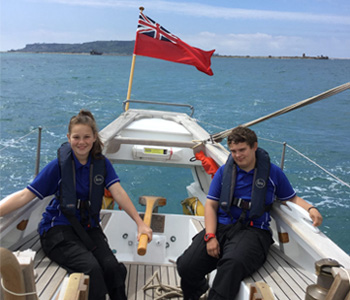 "I would just like to say a big thanks for providing our students the opportunity to experience sailing aboard Boleh this week. In my opinion this was a fantastic opportunity to inspire our students and promote a can-do attitude using sail training as the medium. I used this experience as a reward for an outstanding attitude to learning and achievements across all subjects in school. I personally really enjoyed the experience too!"

Neal Burton

Dorset Studio School. July 2017
"It was a great experience, I learnt lots of things about Boleh. I was quite nervous at first, but loved steering. I also learnt about the tides and port and starboard. Thanks for a great day!" ,

Luke

Student, Isle of Portland Aldridge Community Academy. June 2017
"I really enjoyed it. Steering was the best part. We went up to the end of the harbour, and I steered it most of the way up. It was hard work – you have to fight against the wind, but I got the hang of it. I would definitely do it again."

Ruby

Age 15, Mayfield School, Portsmouth. May 2018.
"This opportunity was a very special one for the students and staff involved. Some of these students are in the most in need category at school but shone on Boleh. (The skipper and mate) were outstanding in every way and connected with our students straight away."

Mark Salmon

Wey Valley School, Dorset. June 2018
"Four amazing days for our students . This opportunity has proved hugely rewarding and enriching. Having spoken with the other school staff who went, they all remarked how great Boleh is as a yacht and how rewarding the trips have been with regards to the Social, Mental and Emotional Health (SMEH) needs of many of the students who went."

Neal Burton

Dorset Studio School. June 2018.
"I recently participated in the Small Ships Race sailing in 'Boleh', based in Gosport. This Race is organised by ASTO from Cowes and is meant to give determined young people with little sailing knowledge the opportunity to sail. I am lucky enough to have a bit of background knowledge which meant I could appreciate the interesting and unique design of Boleh."

"Although we didn't finish too high up the leaderboard we all had fun, gained experience and made new connections with new people. We overcame some unexpected surprise problems but we all just took this in our stride and carried on. The weather could have been a little bit nicer but it did not affect how much I enjoyed my time on Boleh and how much I have taken away from this amazing opportunity."

"Thanks to ASTO and the Boleh Trust for respectively organising the whole event and providing a great day out."

Jamie

Age 14, Isle of Wight. October 2018
"I just wanted to drop you an email thanking you and the NFF for the experience our pupils at Mayfield have had with the sailing on Boleh. On both days the pupils completely enjoyed themselves and got to experience something new and different. I would like to pass on my deepest gratitude to the skipper and first mate, Pete and Gordon, as they made sure the pupils and staff were looked after and able to experience all different aspects of sailing. They really did make both days special and enjoyable."

Ben

Teacher, Mayfield School, May 2019
"Hi, just wanted to say thank you for the amazing opportunity for our pupils. Today will be adding to their memories. They loved every moment."

Shireen

Teacher, St Swithuns School, June 2019
"The children that have attended a [Pompey Military Kids] sailing session have thoroughly enjoyed themselves. This has enabled them to discuss sailing with their Serving parent and have some shared experiences. School staff have explained how many Services children have expressed their feelings during the sessions as they know their peers understand their way of life. The sessions have also helped to inform staff about the Military lifestyle and challenges, which allows them to better support the children back in the school environment. I very much appreciate your commitment to supporting our families. Many thanks."

Nicola Thompson

Families Engagement Officer, Naval Families Federation, October 2019
Corporate and Private Charter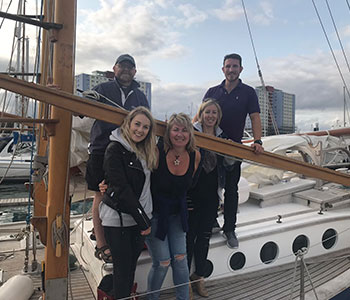 "The Teknis Ltd team had a fantastic day enjoying a unique sailing experience – good weather, good company, good food and great sailing! We aim to see Boleh again next year!"

Dave Thompson

Managing Director, Teknis Ltd. July 2018.
"What an amazing day today! Thanks to all of you."

Sue Harper

Naval Families Federation Prize Winner. August 2018
"An historic re-union made this an emotional day for all, as memories of Boleh flooded back . Thanks for a 'once in a lifetime' experience"

Dave Sully and members of former owner, Roger Angel's family

September 2018
"Firstly, thank you very much for a fabulous event. It was great fun and the weather was on our side. We thoroughly enjoyed our day out. Please thank the team for me."

Steve Fitz-Gerald

MD Land, Maritime and Weapons, QinetiQ, September 2019
Junk Yacht Boleh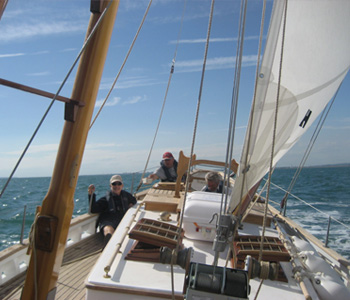 "It has been an absolute pleasure skippering Boleh – she is a fabulous yacht."

Peter Green

Managing Director, Halcyon Yachts Ltd. February 2018
"It was a privilege to be able to skipper Boleh; she is a unique boat and a pleasure to sail."

Chris O'Connell

Volunteer Skipper. July 2018
"You really looked like you had a cracking sail out there. Well done."

Lucy Gross

General Manager Association of Sail Training Organisations, commenting on Boleh's performance in the Cowes Small Ships Race. October 2018
"Boleh is a pleasure to sail. I think that she has been incredibly well put together in a considered and thoughtful way. Once again thank you very much indeed for the opportunity to sail this unique part of our maritime history."

Henry Kemp-Gee

Army Skipper and Yachtmaster, October 2019