I started at the Boleh Project back in November 2012, I came to Boleh with very little woodwork skills and I thought I might have been over my head to start with, and although I am now sadly leaving the project, I do have a great set of skills to take with me. Not just practical skills, but soft skills as well, and that is all down to the brilliant friendly team here about Boleh and I thank them all.
My plans for the future are, in a few weeks I am leaving for my commercial yacht master and instructor endorsement, and then I am going to apply for a company like Sun sail or Ondeck the become a skipper in the summer teaching people how to race/sail yachts and then get on the maintenance team for the winter and maybe later on in life start up my own business in repairing and maintaining yachts.
There have been there ups and down though the time I have been here, but we have all pulled through to become a stronger team, CAN DO!! = Boleh.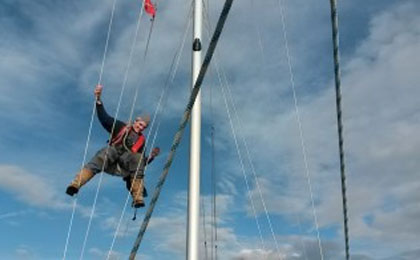 Thank you Boleh for the brilliant opportunity, it truly has benefited me for now and later on in life.
Want to get involved and Volunteer?
From Skippers to Open Day Stewards, there are lots of ways to get involved – we would love to hear from you!
Preparation
Removal of old fixings such as copper nails, copper bolts, screws and other fastenings.
Clean up existing stilts and and rail of excess wood, paint etc.
Created a tempate for the master stilt for all the others to be built on that shape i cut small pieces of MDF hot glued them together around the master stilt to obtain the shape for the rest.
Rebuild stilts to master stilt shape cutting planning or creating new pieces to make the stilts
Fix down using West Systems epoxy resin.
Fill in gaps with 2 pac epxoy filler.
Plane, cut parts like caping rail and stilts to the level of the starboard side of the boat.
Sand, filling in gaps and finish.
Problem Solving
Removal of old fixings such as copper nails, copper bolts, screws and other fastenings.
Square
Bevel
Glue gun
Hand drill
Forsner bits
Chisels
Tenon/ panel/ table saw
Smoothing/ block plane
Sand paper and blocks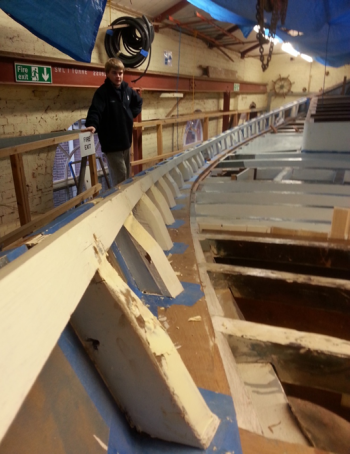 A small amount makes a big difference
Your donation can help prolong the future of Boleh
Monday morning to the afternoon I was making the template to gain the shape of the area I was working in (transom) for the new piece to be built. It was a good objective to do, I learnt a lot about templates and how important they are and how helpful they can be. Pictures to follow.
From Monday afternoon to Friday afternoon I have been marking out the new pieces of wood using the templates, cutting and planning to the right angles and cutting planning and chiselling the steps and joints to make it fit correctly. In the process of this job I fell like skills have improved and gained confidence in using of the machines and hand tools to accomplish the job
Thursday the week after, from lunch and onwards to Friday I continued working on the aft of the boat, creating a new part of a wood joint for a new piece to be made and fitted.
Good points
It was good fun getting to work on the boat and learn about wining fits and losing fits and how angles can make all the difference to the job.
Bad points
It has been quite time consuming just to make a small part right, but if it is not right it is going be a lot more work for the new piece to be made.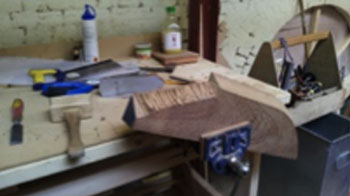 "All the different methods and ways to go about this job, were incredible to learn and hopefully being able to use later on in my career. Some of these methods completely baffled me to start with, then Richard explain them and the reasons why I was doing it that way for instance, transferring the template shape to the lay out board then to the corrugated plastic. Now I understand the reason for using these methods and how to go about using them."