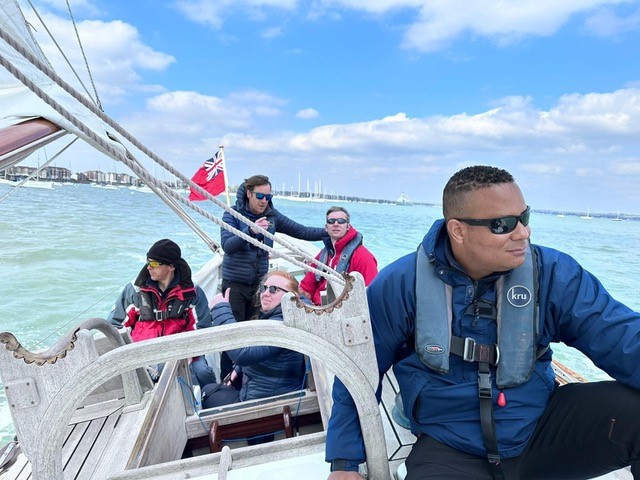 We are very proud to be involved again in the recovery programme for wounded, injured and sick members of the Armed Services.  Last year Boleh sailed members of the Royal Navy and the Royal Marines and this year we have been privileged to include serving members of the Army and the Royal Air Force.  We are also delighted to report that we have received a further generous grant from the Nuffield Trust for the Forces of the Crown, part of which will be used to fund this tri-Service recovery programme..
So far this year Boleh has run 2 x 5 day recovery sailing courses – often in brisk weather; a third course is programmed for the autumn.  Brilliantly organised by RN Recovery Manager, Angie Cheal and delivered by our Volunteer Skippers and Mates led by Ops Director, Craig Coupe (pictured instructing), these have been judged a resounding success.  Without exception, Course feedback has described the positive impact of their Boleh time and praised the 'amazing' care, patience and understanding of the Boleh team.  We are very grateful to our Volunteers and to the Nuffield Trust for achieving this outcome.
The Nuffield Trust grant will also enable Boleh to continue delivering adventurous and exciting sailing for the Armed Forces and their families.  This will include sailing Service children from Portsmouth and Gosport schools, supporting the Portsmouth Veterans Outreach programme, delivering a fortnight's cruise for Devon Army Cadets, and introducing young people in the Military Mentors programme to life at sea.  Our heartfelt thanks to the Nuffield Trust for the generosity they have shown.