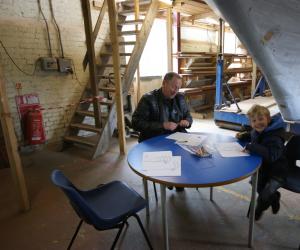 The Boleh Project want to send a huge thank you to all involved in the first Open Day since the HLF grant was awarded.
We had a fantastic day, with over 240 visitors, it was great to share Boleh's story with so many people from the local community. Visitors ranged from those who had sailed on Boleh in the past, to people interested in maritime history and finding out about what our local young people are learning.
We have achieved so much since our HLF grant was awarded last year that it was lovely opportunity to invite members of the public in to see the Boleh Project. We look forward to our next open day on 30th June to update everyone on our progress.
A comment from one of our visitors.
"Awesome project providing lots of interest and new skills for a lot of young people. Important historic interest and maintenance of skilled talents in this country. Well done to all involved."
We would also like to extended a further thank you to Southsea Choir, for providing such a lovely addition to our day. The sea shanties created a wonderful atmosphere and were well received by all.