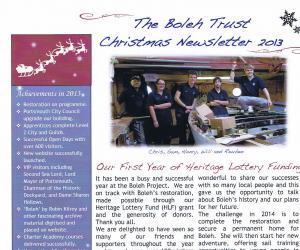 The annual Christmas Newsletter is the fifth sent out by the Trust and what astonishing progress has been made since the first! Thanks, principally, to last year's grant from the Heritage Lottery Fund, but also to the continuing generosity of our friends and supporters, we now have BOLEH well on her way to being fully restored.
BOLEH, with her unique design and rig, will be back in the water and in all respects operational as a working historic ship at the beginning of September next year. We are making good progress in securing her future as a Portsmouth based sail training vessel for young people in the area.
As you will also read in the Newsletter, we have four apprentices on a full training programme and a remarkable tale to tell of other young people benefitting from the Boleh Project. We aim, with your help, to continue these very worthwhile activities.