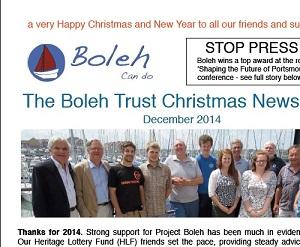 This is now the sixth annual Boleh Trust Christmas Newsletter which we enclose. The year's achievements with young people can best be summed up by Tim Gallier, our apprentice mentor, recently receiving Portsmouth's 'Future Generations' award from the Lord Mayor on behalf of the Trust.
It is also a pleasure and a sign of the progress made that we are able to enclose the first Newsletter (to follow in separate news item) from our sister charity, the Portsmouth Sail Training Trust. PSTT, to use their popular title, are already taking Charter Academy pupils to sea from Portsmouth Historic Dockyard and will be operating BOLEH as a sail training vessel in 2015. We hope you will register your interest with them.
Our focus is now on moving BOLEH in to her operational role and you will see an appeal for donations to support this at the end of our Newsletter.
Thank you all once again for supporting BOLEH and we wish you a very Happy Christmas and New Year.