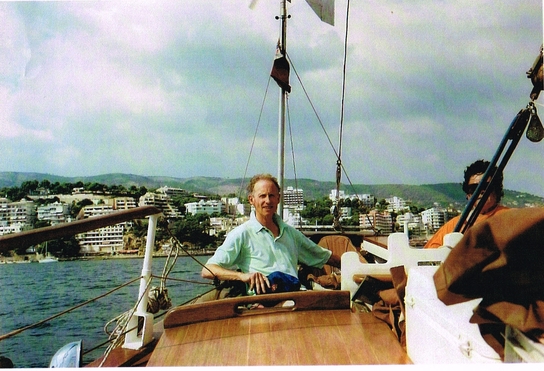 Our  6th April news item proudly reported Practical Boat Owner's inspiring article on Boleh and her history.  What we didn't spot at the time was the incorrect statement that a photo on Page 47 was that of owner, Roger Angel.  In fact, the helmsman was Jeremy Rusher whose father, Lt Cdr J J S Rusher, crewed Boleh's epic voyage from Singapore to Salcombe in 1950.
The PBO photo was taken off Palma in 1999 by Jeremy's wife, Judy.  She had traced Boleh the year before so her husband could celebrate 50 years since he was in Singapore as a child while Boleh was building.  Judy rapidly traced Boleh via Salcombe and Malcolm Darch, contacting Roger who invited the Rushers to Palma and then allowed Jeremy to sail Boleh for 'a wonderful experience'.
We are grateful to Jeremy for this information and for his active support of the Boleh Trust.  In 2014 the Rusher family made their father's voyage diary available to the Trust as a research source, and Jeremy has also arranged for mementoes, crafted from recovered Boleh timbers, to be sold in aid of the Trust (News item: https://boleh.onyx-sites.io/boleh-reclaimed-material-mementoes-for-sale) – a few items still available with price including p&p!