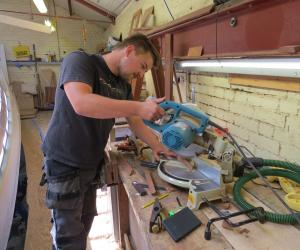 As we increase the final work on Boleh's restoration we are pleased to welcome Josh Brookes back to help us complete.
Josh carried out some of his apprenticeship work on Boleh during Stage 1 of the restoration in 2009. Josh says "I am pleased to be back on the project and am glad I have the chance to carry out more of the restoration, like everyone I am really looking forward to seeing her back on the water"
Josh will be working with our other Shipwrights Pete Spurge and Mac Whorlow.